A National level stamp exhibition and bourse
sponsored by the Nova Scotia Stamp Club.

East Dartmouth Community Centre
50 Caledonia Road
Dartmouth, Nova Scotia

AWARDS BANQUET - The Awards Banquet will be held on Saturday evening at the Double Tree, by the McDonald Bridge, Dartmouth. Details here
For more information watch this website, or contact the club.
---
Thursday 13 September 2018
5:00 – 6:00 pm
6:00 – 9:00 pm
Frame setup
Exhibit Registration (Local members)
Friday 14 September 2018
8:00 – 12:00 pm
10:00 – 12:00 pm
2:00 pm

9.00 pm
Bourse setup
Late Exhibit Registration
Exhibition and Bourse opens
Meetings, Seminars
Exhibition and Bourse closes
Saturday 15 September 2018
10:00 am
10:00 am
2:00 pm
5.00 pm
6:30 pm
7:00 pm
Exhibition and Bourse opens
PSSC meeting (Hugh Rathbun) See below
BNAPS Atlantic Meeting (Jack Forbes)
Exhibition and Bourse closes
Awards reception (cash bar)
Awards Banquet (Contact Jack Forbes)
Sunday 16 September 2018
10:00 am
11:00 am
1:00 pm
3:00 pm
3:00 – 4:00 pm
Exhibition and Bourse opens
Judge's Critique
Judge's Seminar (Ed Kroft)
Exhibition and Bourse closes
Exhibit take down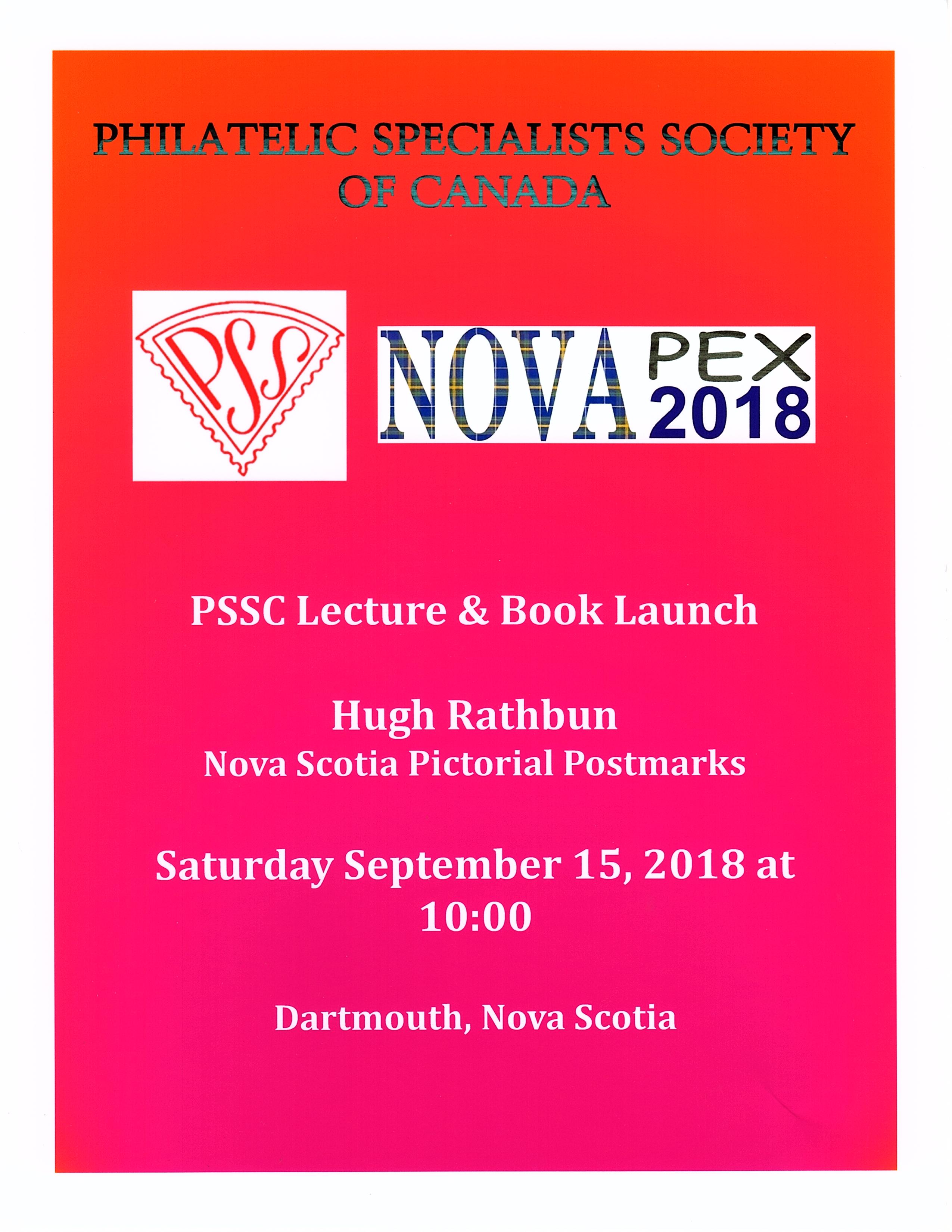 ---
Dealer and Bourse Information
Dealers Prospectus and Application Form

Dealers that will be in attendance at Novapex 2018 include:
John Eldridge, Halifax, NS
Gary Steele, Lower Sackville, NS
Bill Roderick, Ottawa, ON
Marcus Brauer/Moody Blue Stamps, Dartmouth, NS
Corner Block Stamps, Sackville, NB
Acadia Stamps, Dieppe, NB
By the Bay Stamps, Lower Five Islands, NS
Rodger Levy, Dartmouth, NS
J-Claude Michaud, Halifax, NS

---
Awards & Trophies
Royal Philatelic Society of Canada sanctioned Awards
Gold, Vermeil, Silver, Silver-Bronze and Bronze awards will be presented to those entries which merit such recognition. These awards are for quality, therefore there can be more than one in each class.
Nova Scotia Stamp Club
The Grand Award – Best exhibit in show.
Reserve Grand Award – Runner-up to best exhibit in show.
The One-Frame Exhibit Grand Award – Best one-frame exhibit in show.
J. Doug Allen Novice Award
This award is donated by the Nova Scotia Stamp Club and is presented to the best first-time winner of a Royal Philatelic Society of Canada Award.
Nova Scotia Stamp Club Award
Presented to a member-contributor for outstanding contributions to the club and/or to the advancement of philately in Nova Scotia.
Ken C. MacDonald Postal History Award
The Award is presented in recognition of Ken C. MacDonald's outstanding research in postal history and his encouragement to fellow collectors. The award is to encourage research in the postal history of Atlantic Canada and to recognize those who make a significant contribution in this field.
The Ken C. MacDonald Postal History Award shall be awarded for excellence in any of the following categories:
1) An exhibit of the postal history of Atlantic Canada presented at NOVAPEX.
2) Original research about the postal history of Atlantic Canada which has been published in a form generally available to interested collectors. Such publications should have occurred during the previous year.
3) A significant contribution to the advancement of Atlantic Canadian postal history.
George MacKenzie Aerophilately Award
The award shall be presented to a member of the Nova Scotia Stamp Club who, as an exhibitor at a NSSC sponsored exhibition and in the opinion of the Judges, has presented an outstanding exhibit on any aspect of Aerophilately. The exhibit must receive at least a silver award from the judges during the show in which it is exhibited.
The award, consisting of a shield with an aviation motif, will be held by the winner for one year. A smaller shield or plaque will be also given to the winner as a permanent keepsake. The winner's name and year of award will be engraved upon each.
The People's Choice Award
The Award for the most popular exhibit as determined by a vote by those who attend the exhibition.
Possible National Level Awards (to be confirmed)
American Philatelic Society
Awards of Excellence (Medal):
Best exhibit of Pre-1900 material
Best exhibit of 1900-1940 material
Best exhibit of 1940-1980 material
Best exhibit of Post-1980 material
APS Research Award
American Society of Philatelic Exhibitors
Gold Pin (2- National)
WE Sterling Achievement Award (1- National)
Philatelic Exhibiting Creativity Award - Pin
Award of Excellence Trophy – Exhibit demonstrating Best Plan, Title Page, Headings
Note Award of Excellence is also open to regional level exhibits
Novice Award (Regional) - 1 year's membership in APPE
American Topical Association
Gold Medal & Ribbon – Best thematic exhibit in show
Silver Medal and Ribbon – 2nd best thematic exhibit in show
Bronze Medal and Ribbon – 3rd best thematic exhibit in show
Merit Award Ribbon – Best one-frame exhibit in show
British North America Philatelic Society
(National or Regional BNA material)
Best BNA Exhibit (Plaque and Ribbon)
Best 2, 3, or 4 frame BNA Exhibit (Plaque and Ribbon)
Best 1-frame Exhibit (Plaque and Ribbon)
Best Researched BNA Exhibit (Plaque and Ribbon)
BNAPS Elizabethan Study Group Award (Pin)
Canadian Aerophilatelic Society
Plaque for Best Aerophilately Exhibit
Philatelic Specialists Society of Canada
Medal Ribbon, and Certificate for excellence in research and depth of study
Postal History Society of Canada
Ribbon and Certificate – for Best British North America Postal History Exhibit
Rich Toop Memorial Award – Certificate for Best Military Exhibit
Royal Philatelic Society of Canada
RPSC Excellence - Treatment /Traitement Award
RPSC Excellence - Material/Matériel Award
PRSC Excellence - Presentation/Présentation Award
RPSC Excellence – Title/Synopsis/Titre Award
RPSC Novice Award
---
Teams consists of 5 members each with a single frame entered in the exhibition. Individual points are tallied for an overall Team score. Entry Forms, outlining the scoring system that will be used, are available at the link below, or at monthly meetings.
Dave Cooper Memorial Trophy is presented to the 5 winning members of the One-Frame Team Competition. Each individual Team member also receives a circular medallion.
Team Entry Form


This form must accompany 5 copies of the Official Entry Form

(1 for each exhibitor).
---
Responsibility
Contact
Chair
Guy Jeffery,
Gary Steele,
John Hall
Judging
John Hall
Exhibits
Gary Steele
Awards
Sean Weatherup
Dealer Liaison
Claude Michaud
Treasurer & Registration
Marilyn Melanson
Club Member's Table
Karen Galbraith
Cancels / Covers
Hugh Rathbun
RPSC Liaison
NSSC Website & Programme
Jeff Parks
Reception
Gillian Keeping
Hall Layout & Frames
Keith MacKay
Team Competition
Jack Forbes
Stamps for Kids
Gordon Smith
Frames
Keith MacKay
Banquet
Jack Forbes
Advertising
John Hall
---
Accommodations


The following accommodations are close to the show venue. They are provided for information only and are not necessarily recommended by the organizing committee.



Hearthstone Inn Dartmouth

313 Prince Albert Road, Dartmouth, Nova Scotia

Phone: 902.469.5850
Toll Free:1.800.422.8025
reservations@micmachotel.com www.hearthstonehospitality.ca

The Hearthstone Inn is 2.3 km from the venue.
Close to other amenities such as Mic Mac Mall and
Main Street Shopping.


Hampton Inns & Suites by Hilton

60 Cromarty Drive, Dartmouth, Nova Scotia

Phone: 902.406.7700

hamptoninn3.hilton.com/en/index.html

The Hampton Inn is 6.0 km from the venue. Located in Dartmouth Crossing shopping area


Best Western Plus

115 Spectacle Lake Drive
Dartmouth, Nova Scotia B3B 1X7

Phone: 902-463-2000
Reservations: 1 800-780-7234
www.bestwestern.com

The BEst Western Plus is approximately 6.5 km form the venue. It is in Burnside Park and minutes form Dartmouth Crossing.


Coastal Inn Dartmouth

379 Windmill Rd, Dartmouth, Nova Scotia

Direct Reservations 1.800.565.1565

coastalinns.com

Coastal Inn Dartmouth is located in downtown Dartmouth, 7.4 km from the Community Center.
Other options include Halifax/ Dartmouth Area Hotels, Inns and B&Bs




---